DC Endurance Race Information
Posted 12-14-2007 at 02:12 PM by
arch2b
Where:
NCRC Facility
6625 Dobbin Road
Columbia, Maryland 21045
NCRC Homepage
Directions to NCRC
(To follow)
When:
Saturday, Febuary 23, 2008
Schedule of Events
(To follow)
Duration:
3 hours
Track layout: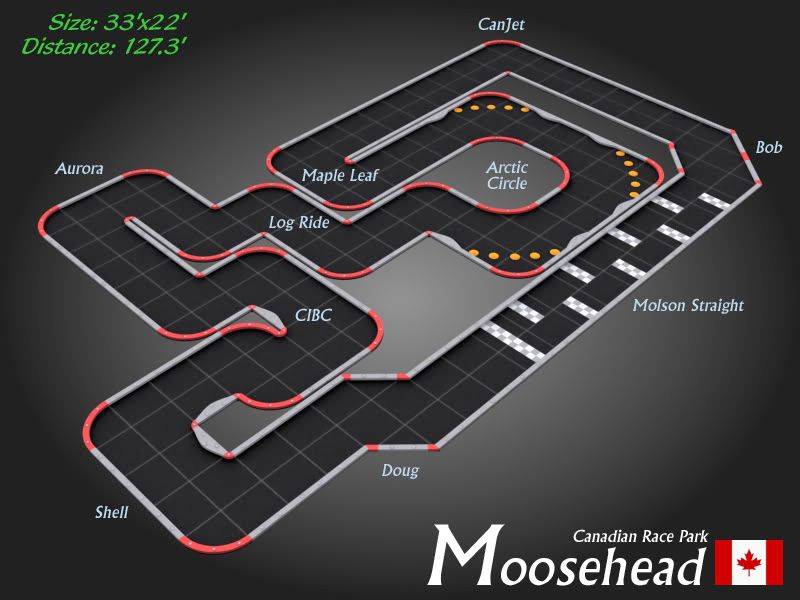 (Thank you Mini-AZ for the track design)
Details:
Teams Must include a minimum of 2 drivers, see details below for Team registration. There is no maximum for number of drivers per Team.
Teams MUST provide the following:
Drivers
Batteries
1 Stock Fet Kyosho MR-02 Chassis (Hop-Ups are allowed (see HFAY rules for reference/comparison), NO AD-Band or 2.4Ghz)
Tires (No Foam)
Replacement parts [Hand Out parts MUST be replaced with same part(s)]
Transmitters
Decorated Team body (actual Autoscale to be provided to each team)
What WILL BE provided for each team:
1 MR-02 RM Lexus SC430 Unpainted Autoscale
Mini-ZRacer is sponsoring our race and providing these!
This consists of the following (subject to change):
1 HFAY Spec Motor (2nd Release)
1 pair of Atomic T.S. 21.5mm +0 front wheels
1 pair of Atomic T.S. 21.5mm +2 rear wheels
1 unpainted lexus SC430 Autoscale kit
Team Body:
Each team will receive thier Team body before the event to allow for decoration by any means they choose.
ALL parts must be installed/assembled, from the front air dams to the front and rear toe hooks.
No car, NO race. If the kit is lost, it will be replaced by the Team at the Team's expense.
There will be a prize for best in show

Teams WILL keep thier Team body at the completion of the race.
Teams to
register here
. Once Teams have registered, Team bodies will be mailed to ONE Team representative who will be the sole person responsible for ensuring it is returned for the event.
Prizes:
1st Team: To be determined
2nd Team: To be determined
3rd Team: To be determined
Fees/Costs:
Teams to be repsosbile for transportation/lodging (if necessary).
Teams to be resposbile for replacement parts, see above details.
Location reserves the right to charge a fee for the time/space.
This will be updated as frequently as possible. If you have any questions, please email me thru the forums.
General discussion for this event is being provided in the
following post
.
Comments
0

Comments
Recent Blog Entries by arch2b