Color0's Micro RC Blog -- A technical brain dump from the mind of yours truly...
Mini-Z Aero Development, Pt. 1
Been a long time since I've posted here, so I thought I should make this post worthwhile by introducing some uber-cool stuff I/GSR have been up to in the last 9 months:
Aerodynamics.

People used to tell me that aero did not matter at 1/28, that a body's weight balance was more important than the downforce it produces. We've long suspected that's wrong, but some recent developments have completely blown it out of the water -- aero matters, and a lot! I'll start off from the top to cover all the aero devices we've been playing with and just how well they work.
First thing on my to-do list was the Gurney flap -- these work on 1/1 cars, sometimes on 1/10 cars, do they work at 1/28? I had no idea. So I did some calculations based on some research papers, and, assuming the entire bodyshell was to be treated as a wing, came up with a measurement of between 3 and 4mm as the optimal height for a Mini-Z-sized Gurney flap. Here it is:
And as you guys may know, a Gurney flap needs some airflow underneath it to work. So I opened up the rear of my shell and gave it some air.
Track test: the Gurney flap weighs about 0.2g -- confirmed on a scale. That's a negligible amount of weight, so the effect on handling (where weight distribution is most obvious) should have been unaffected if there's no aero effect.
However
, to my pleasure this was not true. The Gurney flap adds a little bit of traction from medium speeds and up! That little bit of extra traction makes the car a lot more stable. On the other hand, the Gurney flap is rather fragile, one touch and it cracks due to the plastic I used, and also didn't provide enough downforce to handle a more powerful (43t, neo magnets) motor. So eventually I went back to a "traditional" scoop wing, especially after seeing some analysis of flap spoilers vs. raised wings (credit to ruf on MZR for finding this pic, the actual picture is on
www.auto123.com
):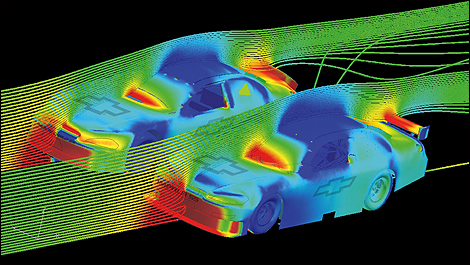 You can see that the airflow is definitely smoother with the raised wing model vs the flap spoiler, which means the raised wing is likely more efficient and will produce the same drag for more downforce, or the same downforce for less drag. More on this later.
The next aero device I tried was a LeMans-style front diffuser. Making it was not terribly hard, but also not the easiest task on earth as you need to be PRECISE if you don't want to screw up your handling.
The front diffuser's job is to smoothly route the air upwards from underneath the bumper, thus generating downforce. Here are 2 shots with the diffuser installed that should make the point clear:
Track test: The diffuser weighs in at about 1 gram. This isn't a negligible weight, however I do know that if there's no aero effect, at high speeds the added weight will actually make the car understeer. So I tested out the diffuser bearing this in mind.
Turns out to be
Absolutely not
the case. The front diffuser on its own added so much front grip that I could not stop traction rolling! Any full steering input with the intent to negotiate a corner would see the car hunker down, turn really fast, and then either spin out or flip on its lid. This was at almost every corner too, not just the high speed ones. The Gurney flap was definitely not enough downforce to handle the front grip -- at this point, I had to put a scoop wing on my car to balance it out. Now scoop wings are much less controversial than the odd aero devices I tested in this article: anyone can see why and how they work, and they actually had been used on Mini-Z's even back in the MR-01 days; just more indication that aero has always been available to us.

In any case, that night I went from being a mid-pack racer to
lapping the field twice in 5 minutes
. That is a ridiculous result: the front diffuser and rear wing combo on my car was worth a full 0.3 seconds on an 8-second lap, there's no way anyone can tell me now that aero doesn't work! And as it turns out, Reflex Racing has also had great successes with their scoop wings, scoring top finishes at the PNWC this year.
1/28 aero myth #1 has officially been debunked.

More developments in the next post!
Comments
Recent Blog Entries by color0